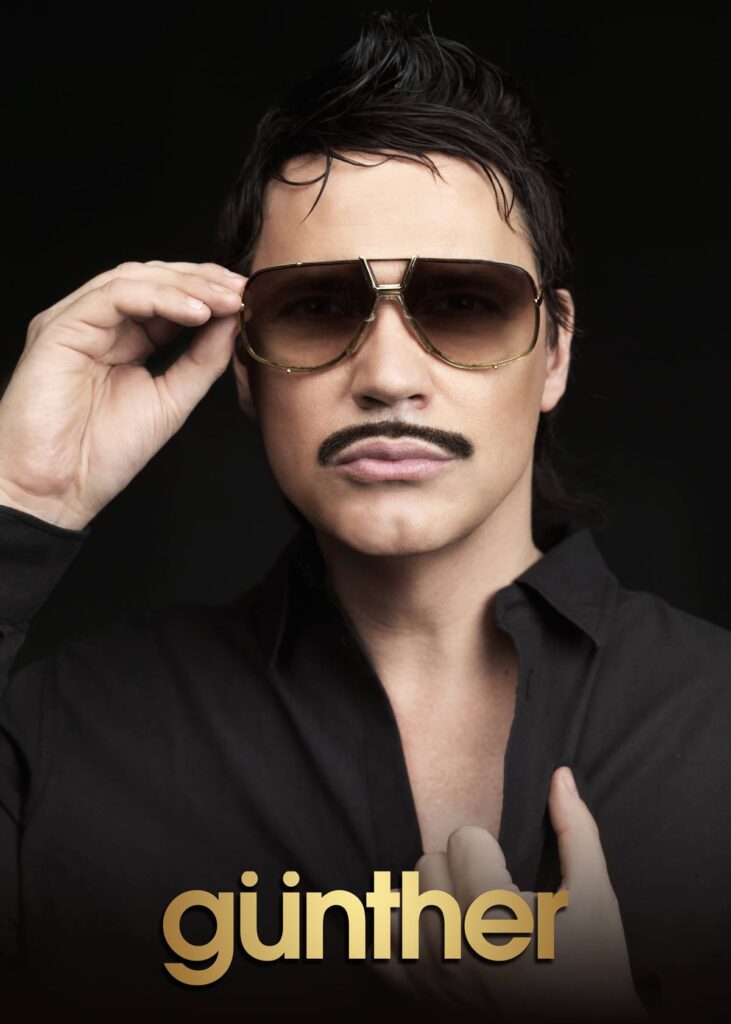 Günther is the Swedish artist/songwriter and producer with a worldwide experience in show biz!
Günther, affectionately and notoriously known to his millions of fans as the Pleasureman is still going strong with a track record of more than 500 performances in more than 16 different countries!
Günther has always been active in the entertainment industry, first as a 1st-class Super model, then as a nightclub owner. At a special point of his life he clearly saw his future mission, to change the attitude of the world to do something better, through his four commandments: Champagne, Love, Sex and Respect, Günther wanted to change how the world looks at Sexual Ways of thinking & Sexual Philosophy, so he started a new trend to Sexualize the world even more. In essence, a "Günther trend."
Günther started his mission of spreading the message of Love throughout the world. This was initially something he started already 2003 in Europe, and Asia. With megahits as "Ding Dong song" "Teeny Weeny", "Tutti Frutti" and in duets with icons such as Samantha Fox (Touch me), he quickly became known all over the world and the success was a fact!
During his career he has performed in a wide variety of venues such as club shows, festivals and large concerts throughout the world.
Günther is a crowd Pleaser & Teaser, and every one, despite age, loves Günther and the Sunshine Girls! The group has a huge and loyal crowd of fans increasing progressively every day, while his mission is spread through YouTube, social media and through his live performances around the globe.
Günther always travels with his Sunshine Girls and the three of them cause huge excitement wherever they go due to their Glamour and Flair.
During his successful career, Günther has won several awards such as MTV Mega Dance, numerous radio and sales prizes, gold records and positioned himself on charts all over the world.
After successful performance in Europe and Asia, the group entered the United States.
With popular appearances, shows and concerts, Günther and his Sunshine girl's quickly grew into a true obsession for hundreds of thousand young Americans all around campuses as Yale, Princeton, Harvard, Santa Monica and so on! These concerts were the very beginning for his success in the States.
Still to this very day, Günther holds a special place in the Americans' hearts as his fans literally begs him to return to perform with his new sexy house beats, such as "I'm not Justin Bieber Bitch" among other new songs.
"I'm not Justin Bieber Bitch" is the stunning result of three years "off the stage"
Günther is back, better than ever with a sound cooler, sexier and more vibrant than ever before. Driving all fans, old, young, male or female, literally crazy during he's performances!
Even though the single is brand new, the word has spread like a wild fire through hundreds of thousands fans and the future tunes from Günther will definitely follow the same new sexy sound of Günther.
Günther is definitely back, stronger and hotter than ever, with a sound so cool that no one will remain untouched, he moves his audience in a way rarely seen. To quote one of his fans:
"Günther can turn a lesbian straight, and a straight guy, gay".