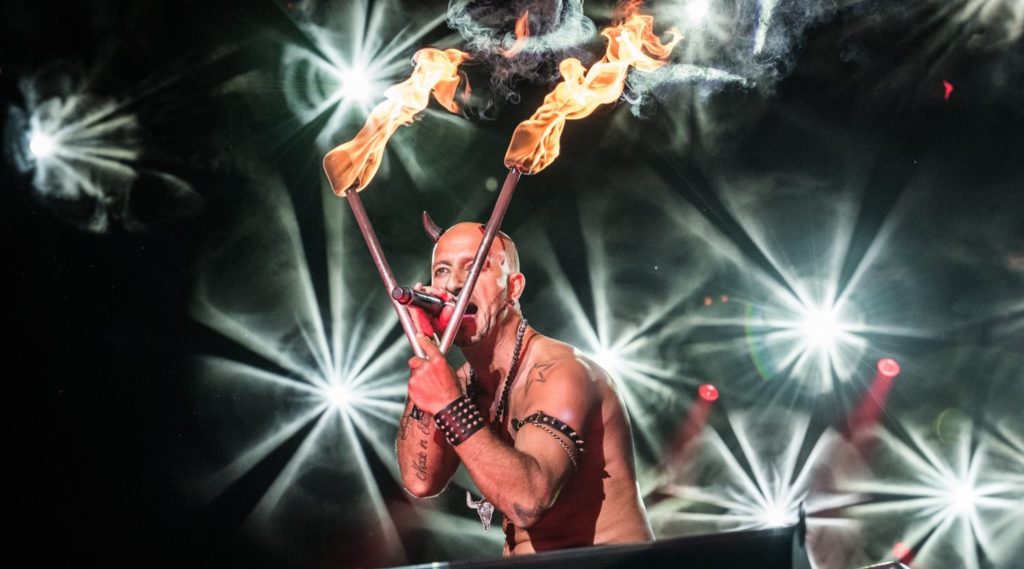 The number of the beast, the story so far …
Ingen tvekan om att bandets image och namn har varit till hjälp för 666, men i längden var det musiken som gjorde fansen som tokiga. Det är ett sound som aldrig hade hörts tidigare – hårdare än andra och med tydliga techno influenser , som ansågs vara död.
Förutom sångarens röst går igenom dig och de musikaliska gimmickarna, som utgör det typiska 666-soundet som snart skulle kopieras av många andra producenter och band.
Sedan 1997 har gruppen etablerat sig som kungar av sin tid och med en turné som tycks sakna slut.
666 är allt annat är klara!
Listplaceringar
-6 Charts-Hits in Germany and Austria
-4 TOP 20 Hits in France ( 2 Gold & 2 Silver Awards )
-5 TOP 10 Hits in Scandinavia ( 4 Gold & 1 Platinum )
-5 TOP 40 Hits in the EURO-CHARTS
-2 TOP 40 Hits in UK ( 18 D.E.V.I.L & 30 Alarma )
-2 Number 1 Hits ( 7" AMOKK" LP PARADOXX )
-1 Double Platinum LP &quot "PARADOXX" in Korea
-* 112 weeks in the Canadian Sales Charts with the Hit-Single "PARADOXX" !
They received several GOLD and PLATINUM records all over the world…….
Spain, Sweden, Finland, Holland, Canada, Australia Russia, Tschech Rep., Portugal, Poland, Italy,Mexico , Argentinia and in nearly all Far-East territories like Korea, Taiwan, Thailand, Hong Kong & Singapore !!